KDA Carnival of Dance Showcase
The following information is for the Dance showcase at Dixon Auditorium. For the Tumbling and Ninja Class Performance, review the schedule here.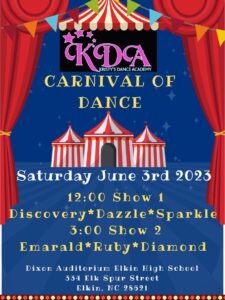 Saturday, June 3rd, 2023
Dixon Auditorium Elkin High School
334 Elk Spur Street
Elkin, NC 28621
Performance Times
12:00pm  – Performance One
3:00pm – Performance Two
Arrival Times
11:15 Arrival time — KDA Team Members
11:30 Arrival Time – Performance One except for Discovery Dancers
11:45 Arrival Time – All Discovery Dancers
2:30 Arrival Time – Performance Two
We encourage anyone and everyone to come as KDA Presents Carnival of Dance. Tickets are not required but we will be accepting donations at the door.
Costumes, Hair, and Makeup
Costume
Arrive: Dressed in Costume and Tights with hair and makeup done.
Accessories: Please bring all accessories that come with the Costume in a bag we will take care of them and make sure they are put on correctly. This way you don't have to worry if they are correct, we will take care of that for you!
Shoes: Please bring in all shoes in a clear zip lock bag with your child's name on it.
Make sure name is on all shoes, costume, and costume pieces.
 Hair
Low ponytail parted in the middle.
Use hair ties that blend with your hair color.
Spray all lose hairs down. If you have bangs make sure to pin them back.
If you cannot do ponytail due to length, you can do a half up and half down. If too short for either, just be sure it's out of your face.
 Makeup
Foundation that matches your skin.
Eye shadow – use natural colors. Tan and browns look great, nothing bold, earth tone colors work best.
Use black eye liner on top and bottom with black mascara.
Lip stick – mauve or roses color looks great. A great lip options is Cover Girl outlast all day lips- Wine to five
 Showcase Important Information
Check in at the purple curtain at the side of the auditorium lobby. Please only send one person back for drop off and pick up. This will help prevent overcrowding backstage. No males behind the purple curtain as this is a dressing area. We have adults assigned to stay with each group during the performance.
Discovery Dancers can be picked up right after their performance and awards on Stage. Discovery dancers are not required to stay until the finale but are welcome to stay if they like to enjoy the performances.
All other dancers will stay until the finale and can be picked up on stage after we have finished.
All Dancers will be getting a T-Shirt. Dancers can bring a pair black shorts to wear for the finale with Recital T-Shirt and a pair of dance shoes on stage.
Performance One
| | | | | |
| --- | --- | --- | --- | --- |
| Class | Day | Start Time | Teacher/Performer | Performance Song |
| KDA Team – Production | | | Kristy Neely | Carnival of Dance |
| Discovery-Tuesday | Tuesday | 6:30 PM | Michelle Upchurch | Cotton Candy Sky |
| Discovery Ages 2-3 | Thursday | 5:00 PM | Michelle Upchurch | Circus Lullaby |
| Intermission / Break | | | | Discovery Awards |
| Dazzle/Sparkle Tap | Monday | 5:30 PM | Michelle Upchurch | Circus Magic |
| Dazzle Jazz-Tuesday | Tuesday | 5:30 PM | Kristy Neely | Get Your Popcorn |
| KDA Team – Petite Lyrical | | | Kristy Neely | Riding a Carousel |
| Sparkle Tap | Thursday | 5:30 PM | Michelle Upchurch | Circus Parade |
| Solo | | | Sierra | Mercy |
| Solo | | | Aubree D. | Loved by You |
| Solo | | | Hope | The Face |
| Dazzle/Sparkle Ballet-Monday | Monday | 6:00 PM | Kristy Neely | We're Spinning Like a Carousel |
| Dazzle Ballet-Tuesday | Tuesday | 6:00 PM | Michelle Upchurch | A Million Dreams |
| Trio | | | Carys, Stella, and Zoe | Something Stronger |
| Solo | | | Giuliana | I am Cute |
| Sparkle Ballet | Thursday | 6:00 PM | Kristy Neely | You are the Magic |
| Solo | | | Eddie | Starlord |
| Dazzle/Sparkle Jazz-Monday | Monday | 7:00 PM | Michelle Upchurch | Circus Magic |
| KDA Team – Senior Lyrical | | | Kristy Neely | Breathe |
| Solo | | | Addison | Gimme Gimme |
| Solo | | | Stella | Tightrope |
| Solo | | | Gracee | Airborne Ranger |
| Dazzle Tap | Tuesday | 7:00 PM | Michelle Upchurch | Clumsy Clown |
| Solo | | TBD | Carys | Freddy |
| Duet | | TBD | Addison and Sierra | Sisters |
| Junior Miss Dance 2023 | | | Zoe | No Limits |
| Sparkle Jazz | Thursday | 6:30 PM | Michelle Upchurch | Magic Happens |
| KDA Team – Rhinestones | Thursday | 7:00 PM | Kristy Neely | When She hears a Carousel |
| Finale | | TBD | | Finale |
Performance Two
| | | | | |
| --- | --- | --- | --- | --- |
| Class Name | Day | Time | Teacher/Performer | Performance Song |
| KDA Team – Production | | | Kristy Neely | Carnival of Dance |
| Emerald Jazz-Monday | Monday | 7:00 PM | Kristy Neely | Welcome To The Show |
| Solo | | | Ambellina | Let Your Heart Sing |
| Solo | | | Aubree M | Live Your Story |
| Diamond Tap | Monday | 6:00 PM | Michelle Upchurch | The Greatest Show |
| Solo | | | Presley | Peace in Christ |
| Ruby Ballet | Tuesday | 6:00 PM | Kristy Neely | The Carousel Waltz |
| Solo | | | Rilynn | Roar |
| Solo | | | Adlee | The Dance You do |
| Diamond Ballet | Monday | 6:30 PM | Candice Dimmette | Circus Ballerina |
| Emerald Tap-Monday | Monday | 7:30 PM | Michelle Upchurch | Some Call it Magic |
| Ruby Jazz | Tuesday | 7:00 PM | Kristy Neely | Black Magic |
| Rhinestone Ballet | Thursday | 5:30 PM | Kristy Neely | The butterfly Circus |
| KDA Team – Contemporary | | | Kristy Neely | Muddy Waters |
| Solo | | | Bella | We Dance |
| Ruby Tap-Tuesday | Tuesday | 5:30 PM | Michelle Upchurch | It's Carnival Time |
| Solo | | | Brooke | Look at Me |
| Emerald Ballet-Monday | Monday | 6:30 PM | Kristy Neely | Circus Fantasy |
| Junior Miss Dance 2023 | | | Zoe | Bird Set Free |
| Trio | | | Gracee, Addison and Eddie | You Belong with me |
| Rhinestone Tap | Thursday | 6:00 PM | Michelle Upchurch | Join the Circus |
| Solo | | | Aubrey K. | Never let me go |
| Solo | | | Aubree D. | When you're Good to Mama |
| Hip Hop Ages 8 and up | Tuesday | 5:00 PM | Hope Holbrook | Popcorn |
| Finale | | | All Dancers | Finale |