Welcome to Kristy's Dance Academy
At Kristy's Dance Academy we strive to stay on the cutting edge of the current dance trends, but still give our students a strong hold on tradition with strong technique and knowledge of terminology. Our goal is to INSPIRE each child to GROW and ACHIEVE so that whatever path they choose, they can SUCCEED.
We are currently the home studio of:
America's Junior Mr. Dance 2024 Eddie Ledbetter and Tiny Miss Dance USA 2024 Rilynn Browder
America's Junior Miss Dance 2023 and America's Junior Dancer of the Year - Zoe Davis
Teen Miss Dance USA 2022 - Aubree Dobson
America's Junior Mr. Dance 2022 - Eddie Ledbetter
Mini Miss Dance USA 2022 - Addison Dodge
Important Dates to Remember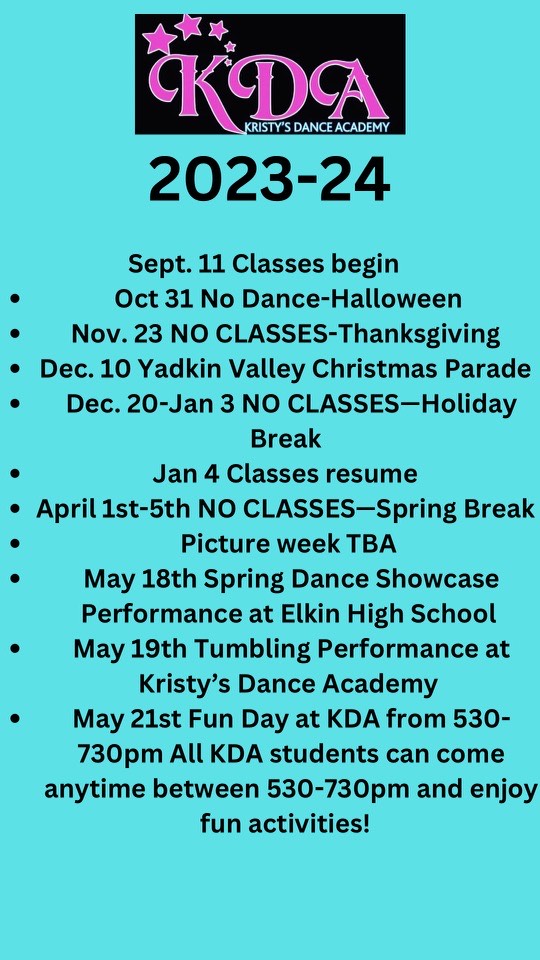 What makes Kristy's Dance Academy different?
We are the only studio in the area that is a Nationally Certified Member of Dance Masters of America
We offer classes on a "Working Parent" Friendly Schedule
We have multiple short recitals rather than long marathons
Performances at local facilities.
Our Instructors care about each individual child creating an environment where every child has a "chance to dance"
At Kristy's Dance Academy we are a FAMILY...we support and encourage each other to Grow, Learn, and Achieve Success!
"Best dance studio and teachers around. Love them all, they care about all the kids."
"...Kristy is a very talented, compassionate and caring teacher and ensures other staff in her studio have the same values. Thankful for such a great studio and teachers!"
"Great instructors and very helpful to the young people they work with!!"